Hangzhou Nabel Group received 3 precious gifts: One banner on which signed the name of the staff from "snow dragon" expedition vessel, one embroidered flag which was printed with eight Chinese words "通力合作,奉献南极(Working together, Contributing to Antarctica", one CD recorded by Antarctic landscape,the Antarctic expedition team photo, as well as the introduction about the science researching station which is installed by Nabel Ceramic tiles.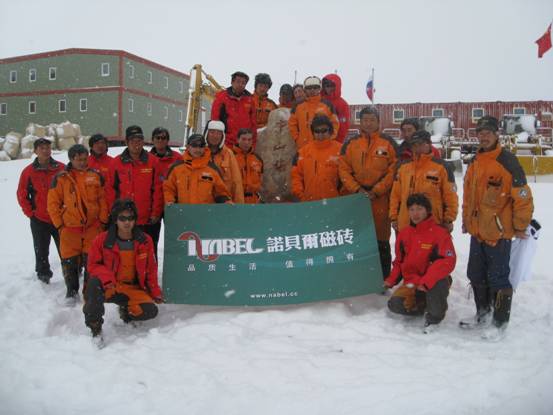 The Antarctic height above sea level is 2350 meters, it is the world ice pole, a content with strong wind and dry land, 98% of the area is covered by snow, and the ice thickness reaches 2000 meter. China sea bureau, China Antarctic research center built Zhongshan station,Great station which was listed in the National key construction project. These project selected Nabel tile for their decoration, So NABEL Ceramic tile reached Antarctic pole sear port along with "Snow dragon" expedition vessel and then transported to the job spot by air plane.
Antarctica is famous for its "cold pole", its lowest temperature is less than minus 80 degree, in such tough weather, the tile's quality is strictly required, no bending, no crack to be happened ,.NABEL Ceramic tile quality is still guaranteed even under the temperature of minus 80 degree, it is worthy to be awarded as "China single brand first sale in the ceramic tile industry" 、"China ceramic tile top 10 popular brand" 、"NABEL" Ceramic tile, after long distance transportation re sea way and air way, experienced the heat and ice weather, was greatly praised by science researcher for Antarctica
After "Snow dragon" success voyage for the Antarctic science research, the expedition team send gifts to NABEL to show their appreciation and thankfulness, and hope NABEL will make new contribution for Antarctic science research.