News dated on 28th July 2016 from people.cn(Zhang Guigui)
News conference re NABEL SIMM Marble tile-Chinese firstly developed new generation of ceramic tile was held at the National Convention Center in Beijing today.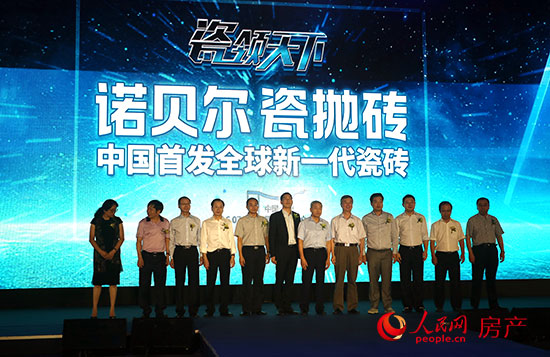 NABEL SIMM Marble Tile news conference site(people.cn shoot by Zhangguigui)
SIMM Marble tile is a new un-traditional ceramic tiles which were developed by NABEL- one of the leader brand in China ceramic industry, NABEL launched its new strategic adjustment by this SIMM Marble tile, China building material federation and more than 100 well known medias witnessed this meaningful moment together.
  In this conference, Chairman of the board Mr Luo Shuigen delivered his welcome speech stating that currently the ceramic tile industry has entered a new developing mode, and the cearmic tile enterprise is facing the key moment of transformation and upgrading, and he hoped that NABEL would make some contribution for this transformation and upgrading via SIMM Marble's debut to the world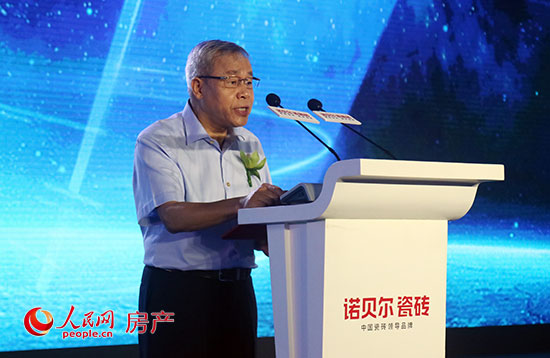 Chairman of the board of NABEL Group,-Mr Luo Shuigen delivered his welcome speech(people.cn shoot by Zhangguigui)
For the last 24 years, NABEL was constantly driven by technology innovation, continually explored new technique、new technology. As the tile producer and seller , NABEL has become the first choice for global high quality customer, its sales volume reached top level position as single brand for continual 13 years. Today to meet the requirement of ceramic industry's reform and upgrading, NABEL actively adjusted its strategy to strengthen its new development and innovation, to enhance its "intelligent making" ability. The global firstly promoted new generation of ceramic tile-NABEL SIMM MARBLE guarantees its perfect service for world high class customers.
The General Manager of Trout(China) strategic positioning consulting firm (NABEL's Long term strategic consulting company) –Mr. Deng Delong stated that the reform's key point is to change the increment way , and the key to change the increment way is the change from "per requirement" to "creating requirement", and NABEL's SIMM MARBLE makes this change come true. As one of the leader brand in China, NABEL enterprise explored a continual developing sample for the ceramic industry to cater for National supplier structure reform.
The R/D vice president and general engineer Yu Aimin firstly uncover the secret mask of SIMM Marble, he introduced to the guests that there existed four core technical breakthrough for this SIMM Marble:1,porcelain surface decoration technology, 2,Ink jet printing & soluble salt technology 3, multi-dimensional feeding technology 4,Micron grade surface polishing technology. And the vice president of NABEL R/D department, Mr Simon explained the tile's history in term of product technology, His opinion is that for SIMM Marble, it uses new porcelain layer to substitute traditional glaze layer, uses ink jet printing soluble salt to substitute screen printing, together with multi-dimensional feeding and Micron surface finishing technology, make the SIMM Marble tile have 5 characteristics:1, more anti-abrasion, 2,more vivid surface pattern , 3.more homogenous body, 4, more solid texture, 5,more warm touching feeling. This is the reason to be called "New generation of Ceramic Tile"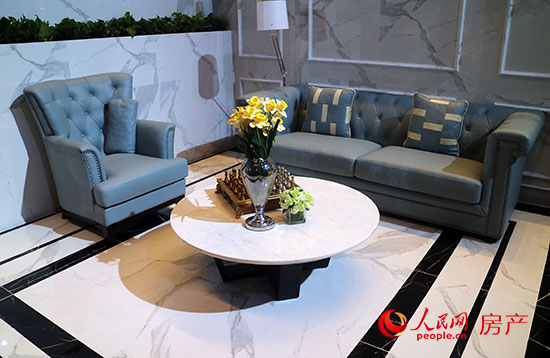 NABEL SIMM Marble tile displayed in the show room ( people.cn,shoot by Zhangguigui)
Based on the four core technologies and two "substitution", SIMM MARBLE owns both the characteristic of polished porcelain tile and designing advantage of polished & glazed porcelain tile, it avoids regular polished porcelain tile's disadvantage-color and pattern is simple and disadvantage of glazed & polished porcelain tile- the surface anti-abrasion is not satisfied, to unify the function and decoration. The vice secretary of China building ceramic and sanitary association Yi Hong expressed that the birth of SIMM MARBLE TILE adds a colorful painting to the ceramic industry and has extraordinary significance.
The chief designer of HK designing office-Mr Chen Feijie deemed that a good tiles must have a good application. In his opinion, the main designing trend for indoor space is to express the new high level thinking via simple way—Humble luxury. The household designing focus more on the customer's emotion & feelings instead of its dazzling outlook, SIMM MARBLE caters for the pursuit of simple and nature for the people living in high quality home space with its rich color and texture of natural stone, The noble elegant 34 models with their rich 、warm、solid texture and the better dimensional further process make the application and decoration combined together, showing the advantage to have more material choice for the designers.
At the conference spot, NABEL signed the strategic collaboration agreement with CCTV